Okay, I never said that I would not write ANY lists anymore. This list clearly needed to be made. (Note: I also think list-writing is a great way to keep a blog, it is just that I personally want to focus on different type of posts). So, Valentine's Day: fun time for all things romantic, or overly syrup-y commercialized crap? Or perhaps both? For anyone who cannot handle the sheer amount of sappy-sweet movies usually recommended around this time, a list of alternative categories to plan a movie marathon around tomorrow. (Note: not that there is anything wrong with sappy-sweet movies, but, you know, we could use a little variety).
(Film posters/stills via IMDb, book cover via Goodreads)
First, a reading recommendation (OK I snuck in one more book rec below): What better way to get through Valentine's Day than with a serial killer? NO, WAIT, IT'S A SERIAL KILLER IN LOVE! Still not convinced? How about "It's a retelling of Jane Eyre where Jane is a serial killer"? Jane Steele by Lindsay Faye should have become a complete gimmick of a novel, but somehow ended up a genuine historical novel/romance with a somewhat dark twist. Jane's life has been difficult, and as a result she has run into some very shady people and sometimes had to deal with them like a period drama Dexter. When Jane finds her chance at love and happiness, she has to ask herself if she is ready to face her dark past and believe herself worthy of redemption. The writing is really what makes this book work as well as it does, being a clear nod to the original, but still contemporary at the same time, which makes for a very unique narrative voice. It is sharply witty, but can also be very beautiful. If you need any more convincing, watch these two reviews.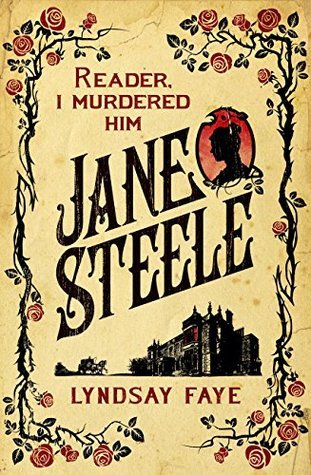 Movie recommendations for ironic or even cynical Valentine's viewing:
My main recommendation for this category, without a doubt, has to be Danny Devito's War of the Roses. If you are in a very anti-Valentines day mood, you can't go wrong with this movie about a couple whose divorce gets mean when they realize they both want to keep the house (or rather: not want to other to have it). It can be a bit too cartoonish for its own good, and while DeVito's direction mostly works really well, I found his character largely an unnecessary addition. Having said that, when this movie fires on all cylinders, it can be deliciously, hilariously mean. The lead performances by Kathleen Turner and Michael Douglas (cast wonderfully against type – as a duo, they were mostly known for playing the leads/romantic couple in Romancing the Stone and Jewel of the Nile) are fantastic.
(content warning for: (slapstick) violence, animal death, possibly an attempted sexual assault – but I don't know if I recall correctly)
However, honorable mentions must go to Love & Friendship (Whit Stillman) and Young Adult (Jason Reitman). Love & Friendship is much less cynical in tone than the other two, but still updates its Austen-written source material (the novella Lady Susan) with some slight changes that make it's chosen title notably ironic (although it should of course be mentioned that Austen herself was no stranger to irony – but this adaptation really doubles down on that). Lady Susan is willing to manipulate everything and everyone in order to arrange a good marriage for herself and her daughter. Clearly, any Austen book or adaptation is a good go-to but if you want something slightly different but no less witty, this one comes highly recommended. Young Adult is a bit darker, following a writer who returns to her home town in hopes of seducing her high school sweetheart – even though he is married now. This might sound like a romcom set up, but that is very much not how things work out. It is interesting to watch a character who is such an unrepentant mess – especially when she is being brought to live so convincingly by the always-great Charlize Theron.
Does Young Adult's premise sound vaguely familiar? Well, of course I'm not going to miss the opportunity to briefly discuss the category of romcom deconstruction, for which I have to mention Crazy Ex-Girlfriend, (once again, yes). The show is currently in its last season, but on a short hiatus before the last episodes come out in March and April – so now is a great time to catch up on this subversive/deconstructive take on many romance clichés. It is also an investigation of various stereotypes of modern womanhood, AND somehow turned into a thoughtful examination of mental health. Crazy Ex starts out with a pretty similar set up as Young Adult, though it is completely different in tone, characterizations, and themes. Oh, and it's a musical. That makes it stand out, too.
The artsy sad sack rec: Feeling up for some genuine romance, but instead of something nice and sappy, you'd prefer to just crushed by a story where the central romance is one that doesn't happen? Let me introduce you to Wong Kar Wai's famous arthouse masterpiece In the Mood for Love. Two neighbors suspect their spouses are having an affair together, and try to reenact how that possibly could have happened. Slow, subtle and heartbreaking, this is the perfect watch if you are in the mood for a more melancholic Valentine's Day.
"BUT HEY", You say, "WHAT ABOUT THE HAPPY ROMANCES? You have only given me one nice romance (and that one's about a serial killer!), the rest are either sad or overtly or covertly unromantic." Well, I've got you covered: here are some delightful romances with a twist, divided in two last categories.

Lesbians and Crime.
Look it was just something I noticed among some of my favorite movie romances so it seems like an awesome idea for a queer valentine's day double feature.
The Handmaiden (Chan-Wook Park) already made my top 5 movies of 2017, so what do I say without repeating myself too much? It is so good! Its thrilling twist and explicit scenes might don't take away from the fact that at its heart, this truly is a love story about two women finding freedom in and because of their romantic and sexual connection with each other. The film is loosely based on Fingersmith by Sarah Waters, which is (especially in the last act) very different but equally excellent so I recommend it just as much. If you have liked one, you should try the other, BUT even if you have seen the movie and not liked it you should still give the book a chance, or vice versa. Bound (Lily and Lana Wachowski), one of the more under-watched films by the Wachowski sisters, is a neo-noir thriller about the girlfriend of a low-level criminal falling in love with a female neighbor. Together, they concoct a scheme to steal mob money and pin the blame on her horrible boyfriend. Of course, the plan does not go as expected… honestly if "queer neo-noir" does not sound like an awesome Valentine's watch to you, what does? (OK, movies without violent murders, probably.)
(Please note that both can be quite violent. The sex scenes are also quite explicit.)
Weird and occasionally dark but still cute romance fantasy films:
The most obvious one for this category is Guillermo Del Toro's oscar-winning The Shape of Water, which I also discussed in a previous top 10. If you have not watched it yet, how? Maybe you should correct that right now. For some lesser-known, much more comedic recommendations (that I haven't seen in a while, so hopefully my recollection of them is sufficient), I offer Liza The Fox Fairy (Károly Ujj Mészáros) and The Mermaid (Stephen Chow). The first is a quirky Hungarian fantasy comedy about a nurse who is desperate to find romance, but her every opportunity is thwarted by the spirit that lives with her in the form of a dead Japanese pop star. He is is jealous of her would-be suitors and therefore has cursed Liza to become a fox fairy, meaning every man who desires her is destined to die a horrible death. This movie is both darkly humorous and genuinely charming. It is kind of like Amélie but with much more death. The Mermaid is a comedy about a mermaid society who sent one of their own undercover to seduce and then assassinate a playboy businessman whose technology is destroying their home. Things get complicated when the two truly start to fall for each other. This movie is absolutely ridiculous. It gets very slapstick-y at times and a little dark (as well as obvious in its environmental commentary) at others. I can imagine either of those things or the combination being off-putting for some people but if you are looking for something silly and unlike any other romance you have seen, give this one a chance.
So, what is a niche book/movie romance category you'd like to see more of?
Julia