Over the past few years, I have gotten more and more into reading short story collections, especially Sci-Fi/Fantasy ones – genre fiction just seems to work really well with a format that thrives on creativity and surprise. Not only can short story collections be a lot of fun, they also offer solutions to some annoying reading problems, like if you want to read more but don't have enough time to read an entire novel without having to put it away so long you might forget what you were even reading (or if you, like me, just prefer switching between different books in general). Because of this, I though I'd make a recommendation post dedicated to 10 collections that I have read and loved or at least really enjoyed. These are not really in any particular order (I just sort of shoved them into a few arbitrary-but-convenient categories), just a few recent and less recent reads that I recommend if you like (or really want to get into) short story collections.
1 – 4: SOME RELATIVELY RECENT READS (AKA: "Books that would be on my '2017 favorites' list if I didn't feel like we are a bit too far into 2018 to still make that post"):
Various authors: Kaleidoscope: Diverse YA Science Fiction and Fantasy Stories.
Anthologies collecting works from different authors can be tricky: they run an even higher risk of ending up really uneven than collections from one author. One of the most pleasant surprises of last year, then, was Twelfth Planet Press's excellent Kaleidoscope, an anthology focused on offering SFF stories about usually mis- or underrepresented people as protagonists (often by underrepresented authors). While it is primarily aimed at a YA audience, it is a great read for anyone who likes the genre. The stories are incredibly diverse not just because of their protagonists, but also in terms of writing style, genre, tone and subject matter. Yet somehow, there is just enough thematic overlap to stop the collection from becoming an incoherent mess. Instead, the incredible variety just makes the book consistently surprising and engaging to read. Of course not every story impressed me equally, but there weren't any I really disliked and quite a few that I loved. It also introduced me to a lot of new authors that I definitely want to read more from. For a more extensive review and some examples of the different stories, you can read this review. My favorite story (even if it wasn't an easy pick), was probably the same as the reviewer's: Ken Liu's gorgeous "The Seventh Day of the Seventh Moon" (which you can read here). The story follows two Chinese girls, a couple, who have to say goodbye because one of them is going to study abroad. They then meet a pair of mythical lovers who help them work through their complicated emotions. I was so impressed by the writing that later in the year, I finally read:
Ken Liu's The Paper Menagerie and Other Stories has garnered a lot of praise and awards since it came out, and rightfully so. Much like the aforementioned story in Kaleidoscope, Liu mixes believable protagonists and relationships with all kinds of fantastical situations, interweaving magic with everyday life, real history and recognizable human emotions. He also deftly switches between different periods and places (from contemporary America to ancient China to future outer space), tones and subjects. His stories stand out both in terms of emotion and imagination. If you like your SFF more contemplative and character-focused instead of (or, like me, just as much as) action-packed and plot driven epics, this is an absolute must read. Various of his stories have been read in podcasts or published in online magazines, like the much acclaimed and awarded titular story, "The Paper Menagerie" (you can read it here, but I recommend listening to episode 11 of Levar Burton's podcast instead, since Levar Burton has a great reading voice and clearly admires the stories he picks out). You can also read an essay Liu wrote about his inspirations for one of the other stories here.

Angela Slatter – The Girl With No Hands and other Tales
I've been meaning to check out one of Angela Slatter's collections ever since I read her excellent novella "Of Sorrow and Such" a few years ago. I am so glad I finally did, because this one did not disappoint. Her stories are both beautiful and disturbing, they are dark and a bit morbid but simultaneously enchanting. This is her collection of creepy fairy tales, featuring both original stories and retellings (inspired by folk- and fairy tales of a variety of cultures). If you want to get a taste of her writing style, you can listen to the terrific (and disturbing) short horror story "Cuckoo" at the excellent horror podcast Pseudopod. "Cuckoo" is not included in this collection, nor is it a fairy tale, but it is something I listened to recently and would recommend to anyone who can deal with darker subject matters. If you want to read a story that is part of this collection, here's a link to "The Chrysanthemum Bride" .
Jen Campbell – The Beginning of the World in the Middle of the Night
I've been intrigued by this book ever since Jen Campbell read an excerpt from the first story on her YouTube channel, so I was delighted when, at a recent edition of Dutch Comic Con, I had a chance to both buy the book and get it signed by her (and yes, she is as nice to talk to in person as she comes across on her channel). Campbell's writing is poetic but also very clear, and she has an amazing grasp on storytelling voice(s), meaning none of the stories and characters sound too much like the others, while still being linked, either thematically or because of recurring motives – as well as the inspiration they take from folklore and fairy tales. They have a lot of heart (…pun, considering the first story, not intended), a bit of darkness and they are incredibly captivating. I would say that the writing is actually so lovely that it somehow completely matches with and therefore is deserving of the utterly gorgeous cover, which says something because LOOK AT THIS UTTERLY GORGEOUS COVER: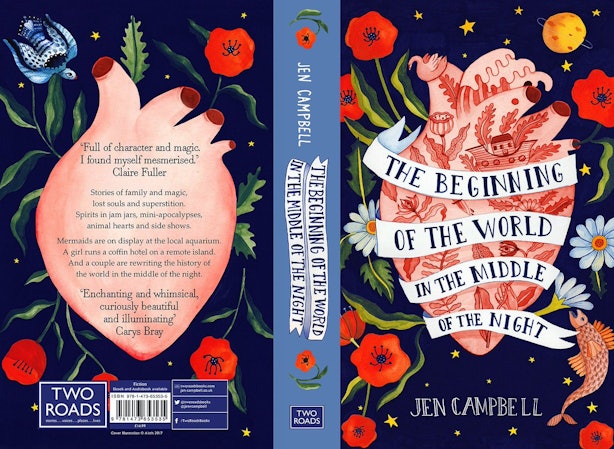 5-7 OTHER FAVORITES
Zen Cho – Spirits Abroad
British-Malaysian author Zen Cho has been a favorite short story author of mine since I read "The House of Aunts", one of the short stories that really taught me to appreciate the form more, which is included in this collection but can also be found online. Her stories are always inventive and often incredibly funny, without sacrificing character insight or the possibility to discuss more serious topics and themes. Apart from that, she also balances more mainstream, pop culture references (like paranormal YA romance in the story mentioned above) with more specific, cultural elements, like the many creatures from Malaysian folk- and fairy tales that show up in her work. She does have one full-length novel out (Sorcerer to the Crown), which is witty and very fun, but personally I really prefer her shorter works, which is why I would recommend checking out this collection first.
Emma Donoghue – Kissing The Witch
Fairy tale retellings are a dime a dozen among short stories – perhaps for obvious reasons (but that's another subject entirely). That particular (sub) genre has its own (sub)subgenre that is quite popular among both writers and readers, namely that of the feminist fairy tale, using female archetypes to explore real world attitudes towards and experiences of women. Out of the ones I've read, this one is probably my favorite. Donoghue uses beautiful prose to tell stories about women saving themselves, saving other women and sometimes(as the title suggests)falling in love with other women. The stories feel both recognizable and wholly new. They mostly stand on their own, but are linked by overlapping characters (one story's villain could be the protagonist in the next, etc.) If you are new to short story collections and not sure where to start, I recommend picking up either this one or Zen Cho's work.
Orrin Grey – Painted Monsters and Other Strange Beasts
Orrin Grey's love letter to the monsters takes inspiration from all kinds of horror literature and from a variety of monster movies. There's, for example, the Nosferatu-inspired "Night's Foul Bird" (which you can listen to on an episode of Pseudopod, which also has one of the other stories from this collection, "The Worm that Gnaws"). Then, you have the mockumentary-esque "Strange Beast" and the ode to monsters, filmmakers and creepy houses that is "Painted Monsters" – as well as stories that are nods to Poe or Lovecraft. This is a collection that wears its influences proudly on its sleeve, but at the same time creates something unique that is very much its own thing as well as a tribute to what came before it. This means that there is a surprising variety to Grey's writing style – and even if not every story will be of equal appeal to most readers, there is at least something to be enjoyed in almost every single one. The many references make this a delightful read for fellow monster fans, but the variety as well as Grey's occasional notes on his inspirations make it so that I also consider this collection a perfect gateway to the horror genre in all its forms: the collection can give you plenty ideas of where to start. Whether you are a longtime horror buff or just trying to dip your toes into these scary genre-waters, you can't go wrong with this collection.
SOME OTHER IMPORTANT/INTERESTING TITLES:
8. AN OLDER COLLECTION YOU'VE PROBABLY HEARD OF BEFORE:
Like I mentioned, the feminist fairy tale collection is EVERYWHERE in the world of short stories – and Angela Carter's The Bloody Chamber and Other Stories is probably the most famous one of them all. While I personally prefer the other fairy tale re-tellings mentioned here (although I really like this one, too), I cannot deny that Carter was both an incredibly talented and influential (for good reason) author. If you want to see what all the fuss is about, you should definitely give these intriguing, dark (and darkly funny), often disturbing tales a chance. Her most well known story is probably "The Company of Wolves", inspiration for the film of the same name (which is also worth watching if you enjoy strange, disturbing fairy tales – and body horror-style werewolf transformations.). I decided to link one of the other stories though: the shorter, twisty and twisted "The Werewolf", which can be read here.

9. AN EVEN OLDER COLLECTION (THAT YOU HAVE PROBABLY NEVER HEARD OF BEFORE): Stefan Grabinski – The Dark Domain.
Most people have never heard of or read anything by horror writer Stefan Grabinski, a Polish author who lived from 1887 until 1936. Don't feel bad – I would have never known about him if it wasn't for this post. This is the only collection of his I have been able to read so far, and I must say it is a shame that Grabinski has been so overlooked. His stories are subtle and unsettling, leaving you more and more uncomfortable as you read on. They are also incredibly atmospheric, with an element of psychological horror and they often end up strange and uncanny rather than outright shocking or horrifying. Check out the above linked post (which is a great description of the type of horror Grabinsky writes and a good way to figure out if these stories will appeal to you). In case you want to skip that post and just get to Grabinski's own work, it also contains this link to the story "Strabismus".
10 HONORABLE MENTION: The anthologies from Booksmugglers Publishing.
(Not so much an honorable mention because they are not genuinely among my favorites, but more because the collections tend to be quite short, so I'm not completely sure if I can count them as "book recommendations").
The Book Smuggers website is one I find myself checking every now and then, and a few years ago they started to publish wonderful fiction as well as write great reviews. It all started with a yearly short story initiative, a call for short story submissions of which the final selection is made into an anthology. Since the stories are centered around a certain theme and all fall under the speculative fiction (science fiction, fantasy, horror, etc) umbrella, they fit together nicely, even if every author's own take on the theme tends to be very different. This makes for surprising and imaginative short stories that also serve as introductions to newer and more unknown writers. The collections I own (as e-books) so far are the Fairy Tale and the First Contact ones (although I have read some of the Superhero and Gods & Monsters stories separately) and they are pretty damn good. You can read every story online for free (Fairy Tales, First Contact, Superheroes, Gods & Monsters), but if you can afford it, you can also buy the e-books and help support the authors, artists and publishers – while also getting a nice (DRM-free) e-book containing the stories, the "inspirations and influences" columns as well as some extra content.

And that's it for now. I might do a follow up post for online short stories/short story websites and podcasts some day. Meanwhile, feel free to leave any recommendations, or let me know which short story collections you want to read this year. I'm really hoping to finally read some Flannery O'Connor, as well as Ted Chiang's The Story of Your Life and Others.